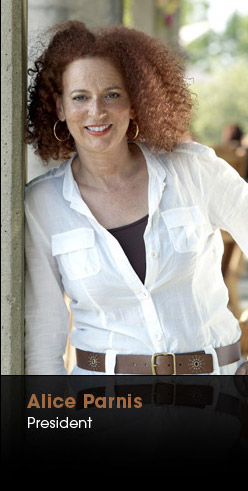 About Us
A strong and passionate leader, Alice Parnis founded Event Fusion in 1999. She built the company into a nationally recognized, successful event business, based on her diverse understanding of the entertainment, marketing and retail industries. She works relentlessly to build innovative designs and original creative concepts; a true entrepreneur, taking from her expertise in program management and facilitation, fundraising, promotions, interior design, visual merchandising and display, and of course, event management. Always a style spectator and trendsetter, Alice's energetic and vibrant character offers a wealth of creative ideas and visionary direction.
In keeping with her dedication to the meeting industry, Alice is past president of the Meeting Professionals International's (MPI) Toronto chapter, for which she was awarded Supplier of the Year in 2006. The association further recognized her efforts and support for MPI's Toronto chapter by awarding her the prestigious President's Award in 2007. Alice continues to support and be a member of MPI and is also a member of CSAE and the Toronto Board of Trade.
Alice has also shared her knowledge and experience with the next generation of event professionals as a teacher at Ryerson University in The George Washington University's Event Management Program and is frequently a guest speaker at numerous universities and colleges.
"We must continuously strive to reinvent the art of event planning!" - Alice Parnis President
Awards
Outstanding Volunteer
of the Year (MPI)
Supplier of the Year (MPI)
Presidents Awards (MPI)
Nominations
Most Outstanding Décor
Under $100,000
(Star Awards)
Recognition
Mayor's Recognition for Children's Day Festival High Park
Our Latest Innovation